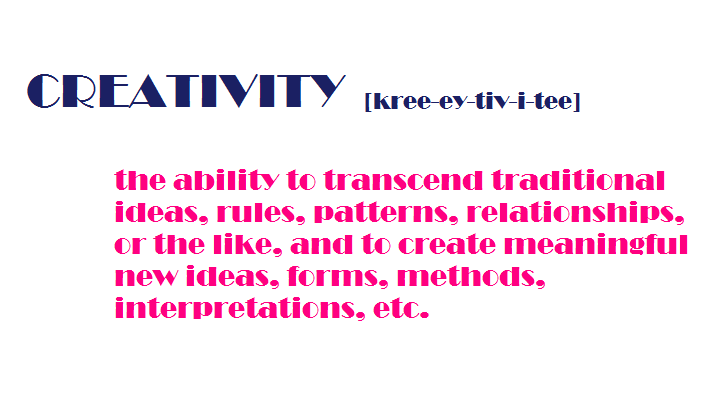 By now, you're starting to be acquainted with my post series about my
Ways to Stay Creative
, which is inspired on methods I actually use to keep up my creativity. I think that most people would like to be creative in their lives, or at least a little more than what they are now. And I'm not talking about becoming an artist, starting a band, or writing a book. There are much simpler ways to add a little inspired vision to their life. And use their imagination.
1. Identify one/many thing/s that you've been wanting to do for a while, like a side project

.
Would you like to be a better cook? Or add to your cooking knowledge to be able to whip up fantastic last-minute meals? Or maybe you would like to re-decorate your house. Or just one room. Maybe you would like to make something with your own hands. Or write a short story. Or start a blog! The possibilities are endless, really.
2. Get inspired.
Look up websites or blogs that cater to your needs. I often find myself overwhelmed with the amount of great food, fashion and design blogs that are out there! I bookmark new favorites and subscribe to blogs I want to regularly follow. But that's only one way: inspiration is all around. Books, magazines, the world outside. Yes, remember The World Outside Your Door? Riiight.
3. Start small. Little by little.
I have been following a few blogs on DIY Fashion, where bloggers re-design or modify items of clothing and accessories. Or work on objects that could be used to decorate the house, by adding their personal touch. Well, I decided I wanted to start a few projects of my own. But I am not the best seamstress out there. Nor am I a fashion designer. And so, little by little, I am learning new skills. And most importantly, I'm enjoying myself in the process.
4. Rethink everyday routine elements.
Try new recipes. Make it a point to go out midweek to try out a new spot for drinks/dinner, if you're not already doing that. Change up your breakfast staples. Search for events in your city that could interest you, even though they are outside your comfort zone. Make little changes that keep you on your toes.
5. Learn a new skill.
Take a class. Or register for an online course / seminar. For example, I am teaching myself basic HTML keys. And reading up on SEO and social media techniques. I think it's so interesting, and feels fulfilling.
And just remember that everybody can create something. Really. So... this is a great start to my day! Thanks for reading, and I would LOVE to know if this inspired to do something creative this week. Tell me about your projects. Or the little things. Cheers!
Image by Dee & Duke.