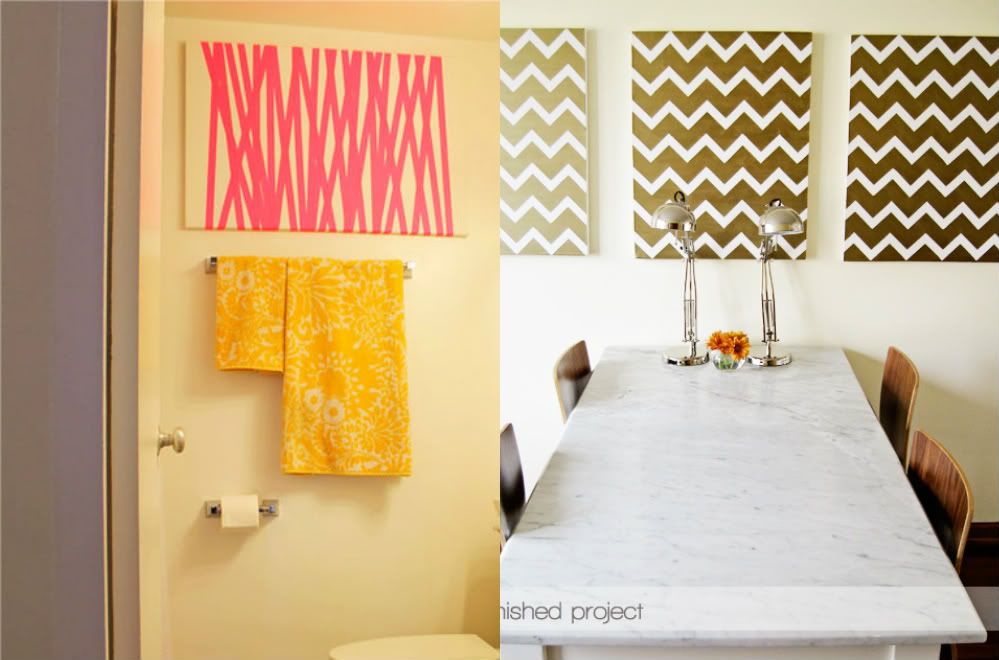 Have you given some thought to last Wednesday's post about
injecting creativity into your life
? Cause I know I have! While skimming over my Home inspiration folder (yes, just like mentioned in
last week's Ways to Stay Creative
- I'm not trying to overly self-promote posts by the way, I write about thoughts that also touches my day-to-day life, and so I end up repeating myself... Sorry. Back to what I was saying...), I re-discovered pictures from
Jess Constable
's house. She is an inspiring young entrepreneur and I loved her nifty thrifty ideas she had when decorating her Chicago apartment. I mean, the girl made her own wall art! And she's not an artist!
Create art of your own by using blank canvases. The right picture is just pink duct tape on blank canvas, and the left one is a chevron pattern she copied online, pinned on canvas, painted bronze over it and removed. Easy! And I think it makes for a striking focal point in the room. Check out her tutorial
here
.
Aaaaand here are some reads for the weekend:
Enjoy!
Photos via. Edited by Dee & Duke.