I noticed that quite some people were interested in the Thailand aspect of my blog... I can't blame anybody, it is a great country with a great culture! As I am well-aware that not everybody can afford to fly over here in the near future, I put together a few tips and tricks to immerse yourself in Thailand without having to leave your place! Try it out, and let me know if it works for you :)
SMELL
Get yourself some oils or essential oils that you can then use with an oil burner or on a terracotta ring you place atop a light bulb. The smell will diffuse and it will feel heavenly! The most easily recognizable Thai scents are lemongrass and coconut. I also personally like burning some incense once in a while. Its adds to the Asian atmosphere.
SEE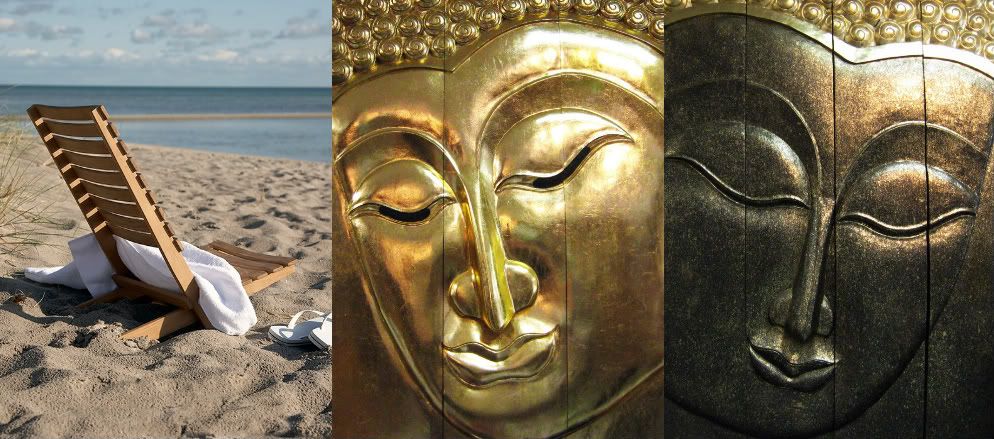 Add some teakwood pieces to your decor, be it furniture or houseware. A beach-inspired chair in a corner, a fruit bowl on the table, a wall piece. Adding some Thai buddhist figures can also bring a nice exotic touch to the decor. You'll recognize the Thai buddha (from the Chinese buddha) by his "flame" of wisdom on his head. Think bronze and gold accents.
TASTE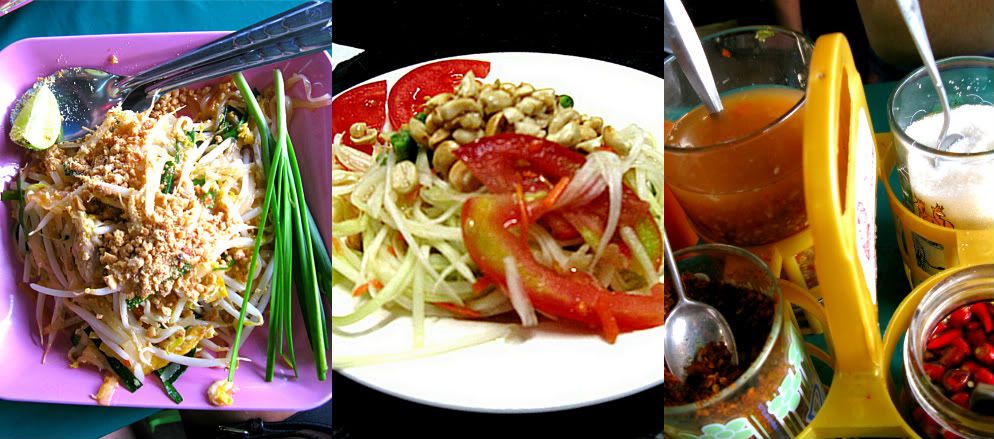 Of course, preparing some of the very yummy Thai dishes can help put yourself in the Thai mood. Very common and easy recipes are Pad Thai and Som Tam (remember this Som Tam recipe?) , as shown above. Putting together the traditional Thai condiments / spices and adding them to your recipes could also be an easy fix. Try fish sauce, which you'll find at Asian stores, with sliced red chilies. Or palm sugar.
TOUCH
A typical trip to Thailand would include sampling some sticky rice. The texture is very particular, not like the other types of Asian rices. It nicely sticks together and help wash down the spiciness of the dishes! Thais have a traditional dessert where they mix it with coconut milk and ripe mangoes. I personally prefer my rice and mangoes to be separate, but it's worth a taste! Of course, the king of local handicrafts is Thai silk, which can be used for home decor. It is so lush! I love the uneven texture of it.
LISTEN
Thai music has many styles and sounds, depending on the regions and ethnic groups. I found these compilations on
Sublime Frequencies
, and love their originality! Surely worth a listen.
The art of travelling without leaving your house! Will you try it?
Photos of Golden Buddha, Bronze Buddha, Pad Thai, Som Tam, Condiments by Dee & Duke.
Other photos via
COCONUT
/
LEMONGRASS OIL
/
INCENSE
/
TEAKWOOD CHAIR
/
STICKY RICE
/
MANGOES
/
THAI SILK
/
THAI POP
/
SHADOW MUSIC
.